In April 2017, LinkedIn's user base was 500 million — up 33 million since the last time they released their numbers just six months ago.
Those users come from 200 countries, use 9 million LinkedIn company pages, and see 10 million active job posts.
Most importantly for advancement professionals, 50% of those users hold a higher-education degree.
This is a massive opportunity to connect with and engage alumni, and open the door to fundraising.
Unfortunately, LinkedIn's complex user interface doesn't necessarily set advancement pros up for success. The good news is, since the business-oriented social media platform launched University Pages in 2013, some best practices have emerged for advancement professionals.
In this article, we're going to cover four straightforward, easy-to-understand ways you can use LinkedIn to your school's advantage — even if the platform still feels like a social media maze to you.
Use LinkedIn to Help Your Alumni Learn and Network
LinkedIn is primarily a professional social network. Business connections are why your alumni come to the platform — so focus on helping them in that arena first and foremost.
Create LinkedIn groups to build communities for your alumni around the things that they care about.
For example, you could create a general alumni group for the purpose of discussing things relating to your school. Or you could create a group for linking employers to job-seekers, connecting mentors with mentees, or helping alumni connect in other cities. You can create groups around initiatives, programs, athletics, or local news, too. The ideas are endless — but to make a group a place of true connection and engagement, it must revolve around something your alumni truly care about.
At this point, you've probably already got a page set up for your school — or another department has set it up. So we'll skip the remedial instruction around that. When alumni list your school in their LinkedIn profiles, the platform creates a link to your school page. This puts your school's content front-and-center for your alumni — so don't let the opportunity go to waste. Feature your groups on your institution's page so alumni can easily find and join them. If your department doesn't own the LinkedIn school page, reach out to the department that does.
Now that you've created the space for your alumni to network, encourage their engagement by actively engaging in the groups yourself. Stir the conversation, pose interesting questions, answer alumni questions, look for opportunities to introduce individuals, and — here's something that can really create engagement — offer online trainings.
Coordinate with your career services department to create trainings for alumni such as:
Using LinkedIn to find a job
Using LinkedIn to change careers
Using LinkedIn to find a mentor
How to get the most out of your mentorship opportunity
Etiquette for requesting a connection on LinkedIn
How to ask for a referral on LinkedIn
How to use LinkedIn for more effective networking
The University of Texas at Austin is a great example of a school that shares great professionally oriented content. And check out how Longwood University is using webinars to engage their alumni on LinkedIn.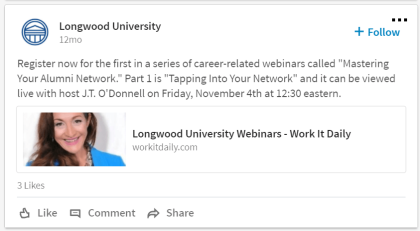 Elevate Successful Alumni
Many institutions make the mistake of turning their pages and groups into billboards. The best way to keep alumni interested is to center your content around them.
Feature alumni who have had recent successes or done interesting things in their careers. If the featured alumnus or alumna has a large online following (for example, Temple University alumna Tamron Hall, featured below speaking at her alma mater), you'll get the added benefit of their platform to spread your message even further.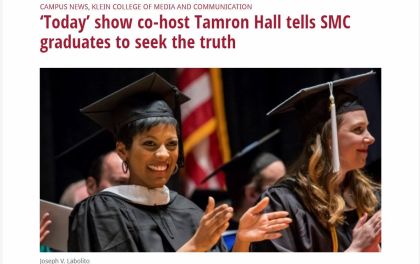 Here are a few examples of universities using LinkedIn to promote successful alumni:
The University of Illinois at Urbana-Champaign posted about alumna Lisa Thompson's bakery and how it helps Chicago's homeless and at-risk youth.

Penn State's LinkedIn page is full of alumni stories, including …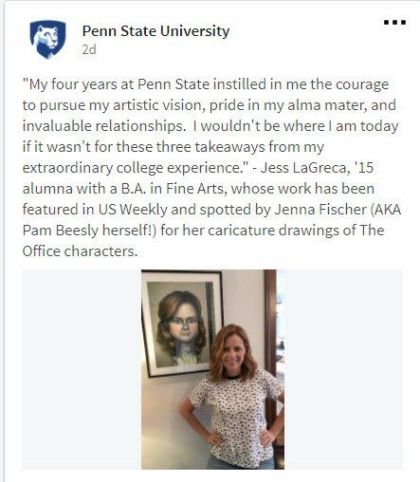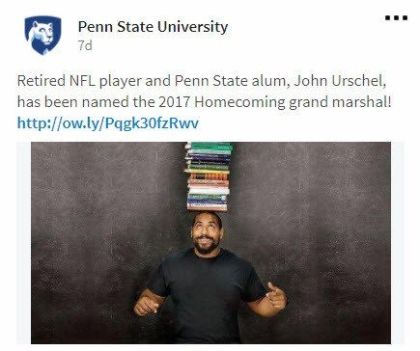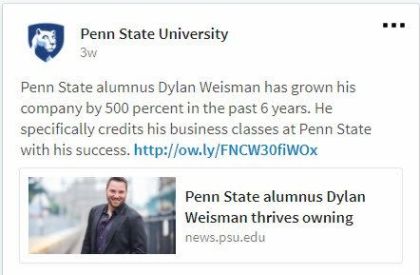 Share Your Institution's Content on and off the Page
By all means, share great content on your LinkedIn page and groups — but don't stop there.
If you're reading this, you're probably an advancement professional — and as such, you probably list your advancement-related role on your LinkedIn profile. No one is going to find it odd if you share content from or about your school. Use your personal page to share your institution's content, and encourage your colleagues to do the same.
Digital strategist Tom Roy suggests sharing one post per weekday to reach 60% of your audience on LinkedIn.
And don't forget to reply to comments!
"The Top Voices made 10x more replies to comments on their articles than did the average LinkedIn writer," says LinkedIn editor-in-chief, Daniel Roth.
Whenever you share content on LinkedIn, make sure you include an image or a video. LinkedIn found that images result in a 98% higher comment rate, and links to YouTube videos (which play directly in the feed) result in a 75% higher share rate.
Here's an example of a video that UC Berkeley posted on their LinkedIn page:
Use LinkedIn to Stay in Touch with Alumni — on and off of LinkedIn
LinkedIn is great for so many things, but personalizing and segmenting your messages is not one of them. That said, LinkedIn is a great way to keep your alumni database up-to-date so the messages you send via email and snail mail actually reach the intended recipients.
Think about it: When your alumni move locations or change jobs, they're much more likely to update their LinkedIn profile than they are to update their alma mater.
A more automated way to approach this is to occasionally share content with a form that asks alumni to update their contact information so their school can stay in touch. You can use these forms less directly as well, asking users to fill them out in order to complete a survey or download premium content.
Staying in touch with alumni is another area where using your personal profile comes in handy. You and your advancement team shouldn't hesitate to request connections from alumni so you can reach out to them individually. This has the added benefit of showing updates from those alumni in your personal newsfeed, so you'll be prompted with opportunities to congratulate them, provide resources, remind them about fundraising programs, etc.
LinkedIn Is Valuable Real Estate for Your Advancement Team
Even with all the possibilities LinkedIn provides to connect with alumni, some schools aren't capitalizing on this valuable digital real estate. Some schools have no content on their pages or in their groups, and some schools don't have pages or groups at all.
Let me remind you, though, that 50% of LinkedIn users have degrees from higher education institutions.
Your alumni — in fact, a broad swath of your constituents — are actively using the platform. Don't let the opportunity escape you to build connections, post helpful and inspiring content, and introduce your alumni to useful groups. LinkedIn isn't reducing organic reach like Facebook is — which means you've got a captive audience on this platform!