In our last alumni engagement post, we showed you how to use LinkedIn to ramp up your alumni relations and keep them engaged. This month, we're talking about the largest social network: Facebook.
As of September 2017, Facebook had more than 2 billion monthly active users, an increase of 16% over the previous year. What's more, 66 percent of those Facebook users — that's 1.37 billion people — log in every day. According to research from Sprout Social, it's the preferred network among Millennials, Gen Xers, and Baby Boomers alike.
Even more important for advancement offices, 79% of Facebook users hold a higher-education degree.
You might think of Facebook as just a personal social networking tool, but it started out as a social networking site for college students. This is a huge advantage for advancement professionals — most Facebook users are already used to interacting with their school on the platform.
With such a huge user base, Facebook is a huge part of the marketing strategy for most businesses — and should be for advancement offices too.
Your institution likely already has its own Facebook page, but a Facebook page dedicated specifically to your alumni is really important if you want to target and engage them. In this article, we're going to cover five ways you can use Facebook's platform and features to your school's advantage — without resorting to funny cat videos or click-bait headlines.
Spotlight Alumni Success Stories
We talked about this in our earlier LinkedIn post, but it bears repeating: People love reading about themselves and about people like them. Having the same alma mater already gives people a sense of community, and hearing stories about what other alumni are up to can strengthen that bond.
A dedicated alumni page is the perfect place to share stories about alumni excellence — and highlight the diverse fields occupied by graduates of the same school.
George State University features stories about what their alumni are up to: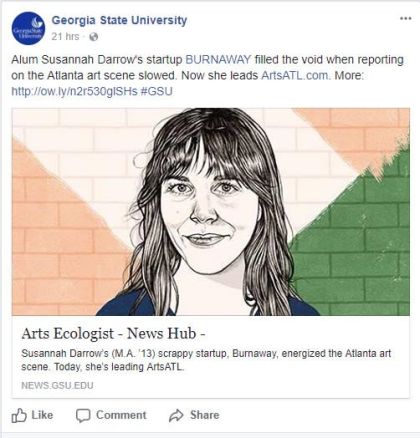 Columbia's Alumni Association also shares stories about alumni in the news.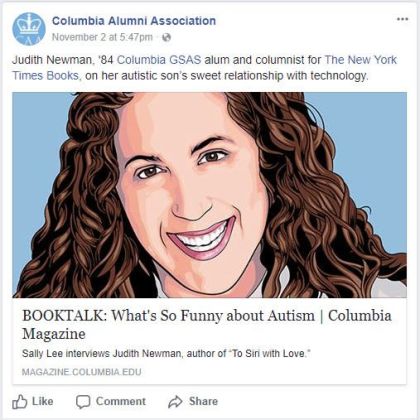 Get Alumni Involved With Interactive Content
Facebook is built around online interaction between people, so starting a conversation is always a great idea. But sometimes just throwing an idea or a question out there isn't enough. You might get a few "likes," but unless a few people get the ball rolling, it's usually … crickets.
Fortunately, Facebook has a few features you can use to pull your alumni audience more actively into your content.
Polls
You can use Facebook's polling feature to ask a question and get people to vote on answers. Neumann University Alumni Association created a poll on their Facebook page and asked alumni to vote on the design of their Homecoming 2017 T-shirt design: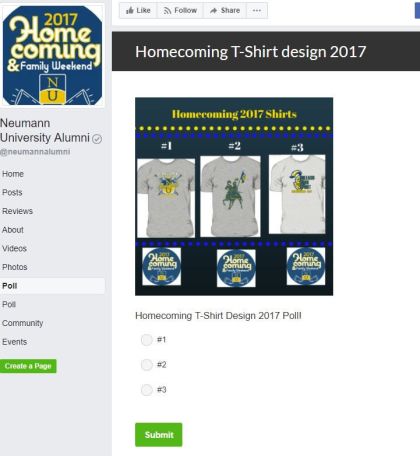 The beauty of polls is that they also create a curiosity loop. People want to check back in for the results, and see how their answers stacked up against the rest of the community.
Tags
Facebook's tagging feature is a great way to expand a post's reach. When you tag individual alumni members, not only do they get a notification, but so does everyone in their network.
But you can also invite alumni to tag themselves and their friends. The University of Wollongong in Australia posted pictures from a recent graduation ceremony, and invited alumni to tag themselves and their classmates:
Encourage Alumni-Generated Content
Asking members of your alumni community to share their own content to your Facebook page is another way to strengthen your online community. Not only does posting user-generated content take some of the burden off of your alumni relations team, it can inject more diversity and creativity into your alumni page.
The University of Technology Sydney used the cover photo on their alumni page to promote a contest for best selfie photo taken at a recent graduation ceremony. Alumni were asked to share their selfies and vote for their favorite. The graduate whose selfie got the most "likes" won a $200 voucher.
Promote Alumni Events and Campaigns With Video
According to research from Buzzsumo, Facebook posts that include video are more likely than any other type of content to be shared. We've all seen our share of viral cat videos, but advancement teams can use video to great effect when promoting alumni events and campaigns.
Facebook Live, in particular, is an important tool. Because Facebook's algorithm favors native video, Facebook Live video posts are more likely to show up in your followers' newsfeeds.
You can use Facebook Live to provide updates during specific campaign drives, like #GivingTuesday. Live video helps amp up the excitement for activities like donor challenges.
You can also broadcast alumni events live — like the following London Business School Alumni event — so that members who can't attend don't have to miss out completely.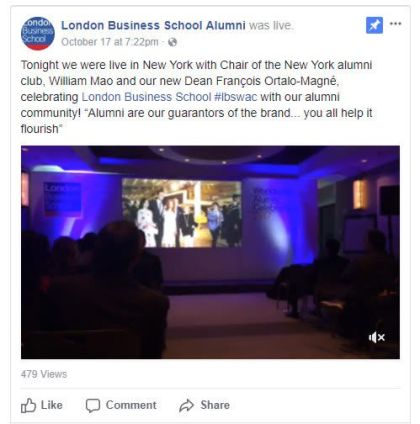 Consider using Facebook videos to amplify your larger alumni campaigns, too. Here's how Oxford University promoted their Three Little Words campaign to their alumni community:
Videos showing the impact of specific fundraising campaigns — like this one, also from Oxford University — can have a much more visceral impact than any annual report.
A note on promoting events: Using Facebook's Events functionality is an excellent way to amplify your alumni or fundraising events. Your members can see upcoming events at a glance, but more importantly, their response amplifies your event's reach. When a member RSVP's (or expresses interest), their network — which may include former classmates — sees it too.
Simply click on Events in the left navigation pane, then click the Create an Event button.
Increase Offline Engagement With Call-to-Action Buttons
Using Facebook's call-to-action feature is another way for you to take your alumni engagement further, off the Facebook page.
The call-to-action feature allows page owners to embed an interactive button on their page that links to any destination (on or off Facebook) they choose.
For example, you can use the Sign-up button on your Facebook page to collect contact information. McGill University uses this button on their Alumni home page to link to a page on their website where alumni can create or update their alumni profile: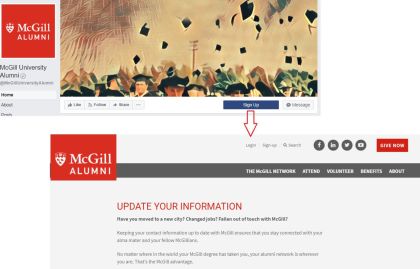 The London Business School uses the Learn More button to take users to a dedicated alumni page on their school's website, drawing them deeper into their alumni community.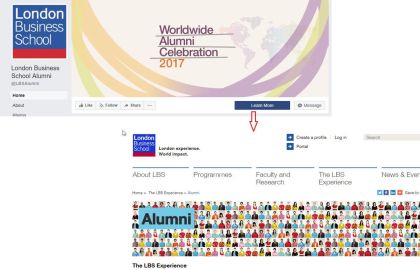 And you can be even more direct with your call-to-action buttons, like the Cornell Alumni Association. They use a Donate button prominently displayed on their Facebook page to link directly to a secure donation site: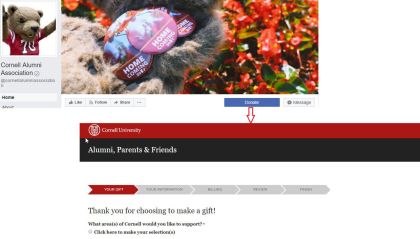 How is Your Institution Leveraging Facebook?
With over 2 billion active users, Facebook is the largest social network in the world. Alumni relations teams need to utilize it successfully.
Schools have been using Facebook to engage with current and prospective students for a long time, but some are missing out on a huge opportunity to use it for alumni engagement. Despite the challenges of declining organic reach, Facebook still offers a compelling experience for users who want to connect and share stories in meaningful ways.
With the right approach, you can amplify your fundraising activities, and draw your alumni into a deeper relationship with your school.